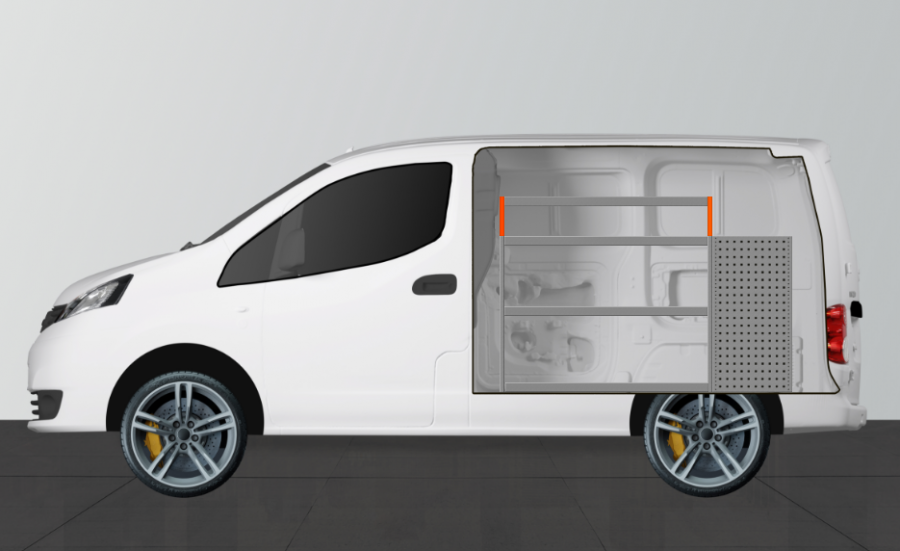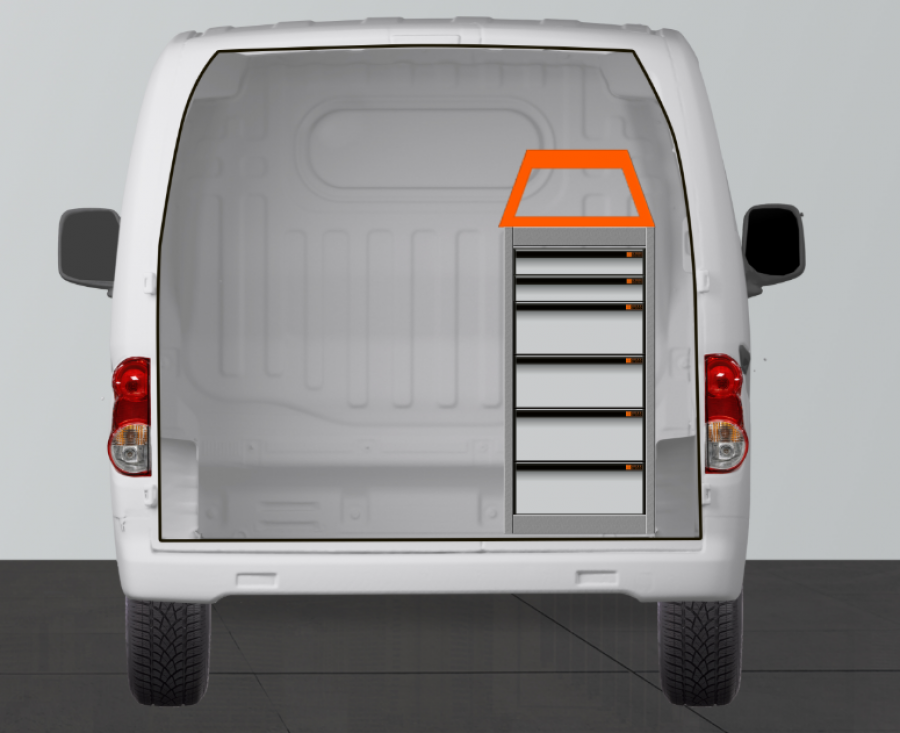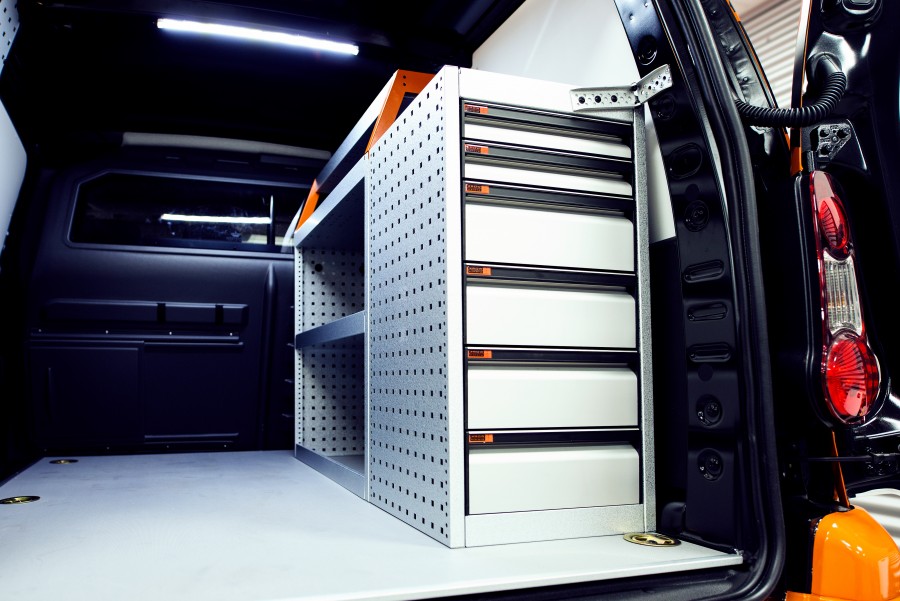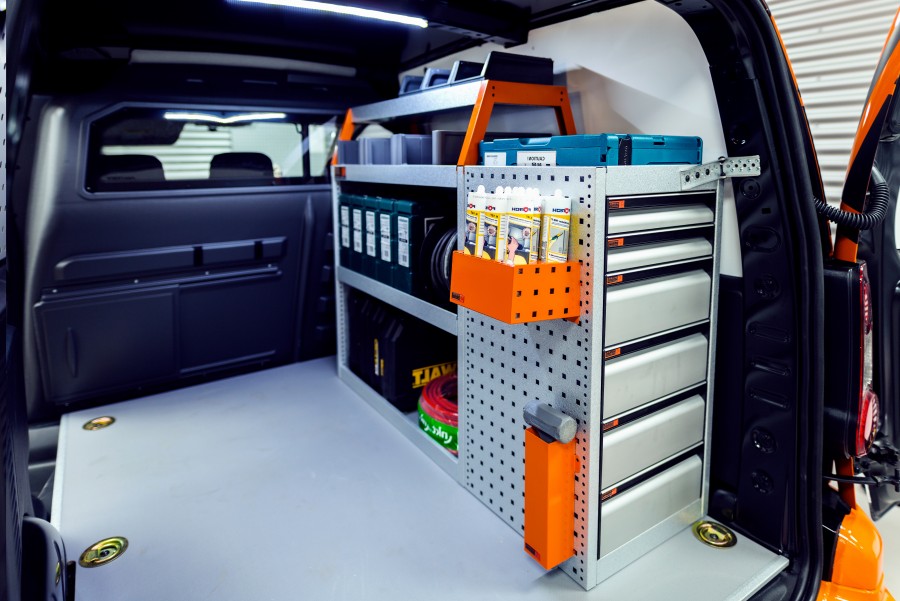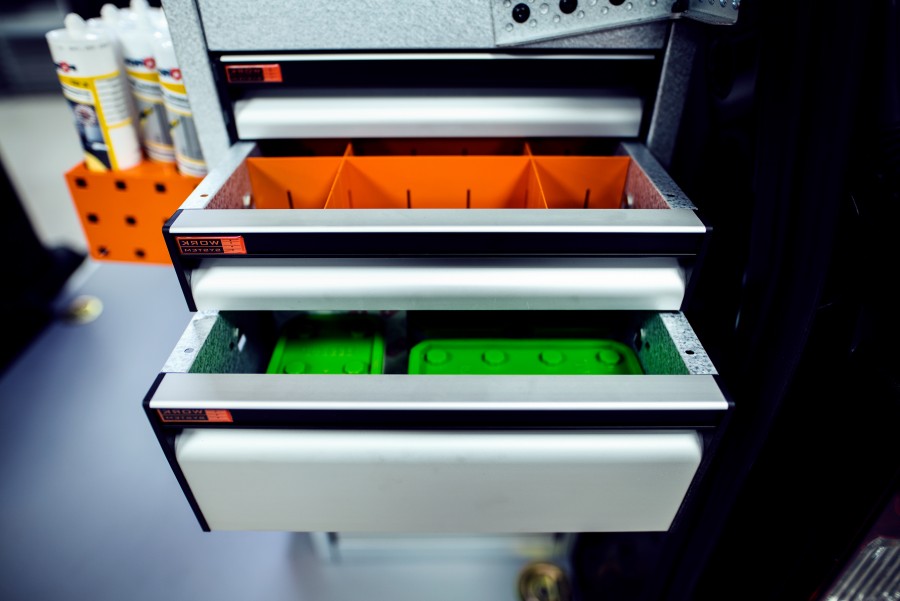 H-LB6 incl. 6 drawers for the NV200
Art. nr.
4-NV200-STD-Y10-H-LB6
H-LB6 shelves are equipped with six drawers facing the rear doors. This particular rack is meant for installation in a NV200.
The drawers are included in the price shown. They have a width of 350 mm and are 390 mm deep. In front of the drawers three shelves provide additional storage.
Accessories shown in the picture are not included. Most of them can be purchased separately in our shop.
All purchases come with instructions for mounting the unit as well as the screws and fittings for installation.
Our racking systems are modular which means they can be easily extended or completed after the initial purchase.
Should you and your business have special requirements, feel free to contact our UK customer helpline for advice or an individualised drawing fitting your needs and vehicle perfectly.
Strong shelf Frames
The shelf frames are based on a self-supporting construction design, for stable and safer mounting. We use Dx51 steel plates with a coated Aluminium zinc surface providing extra durability, corrosion protection and a sleek finish. The frames have punched holes for various accessories.
Sturdy shelves
Our shelves are designed to be self-supporting allowing Work System products to be light and stable. All shelves are made of AZ185 Aluminum-zinc coated Dx51 steel plate with varying thickness for as light a design as possible, which also provides excellent protection against corrosion and a sleek finish. The shelves have a 5.2 cm high lip, which helps to keep your items in place.
Heavy-duty Floor Rails
Floor rails are made of the same material as all our racking solutions. They come in various lengths, provide extra stability for your unit and keep objects securely stowed.
New, high quality Drawers
Our cleverly designed drawers are some of the most spacious on the market in relation to the space that they take up within our racking units. A staggering 92% of the space they occupy can be utilised. As the drawers have no frames round them other than the chassis at the side they are light in weight. They come with a stainless-steel latch system to prevent them from opening while the vehicle is in motion. Work System drawers are fitted onto heavy-duty telescopic rails with ball bearings for a smooth opening and closing.

Drawers come in different sizes:
Breadth: 210, 350 and 620 mm
Height: 70, 140, 210 mm
Depth: 400 mm
Total measurements (Length, Height, Depth)
Weight/mounting/Delivery/warranty